Music production ::: Concert Series ::: Booking ::: Event Design
Ariel Vei Atanasovski
guitar, cello
Vasko Atanasovski
saxophone, flute
Guests:
Marko Churnchetz
piano
Jošt Drašler
double bass
Marjan Stanić
drums, percussion
New album "Liberte TouJours" Moonjune Records New York 2022
Duo Atanasovski – Liberte Toujours
MoonJune Records New York 2022
Ariel Vei Atanasovski is a young composer and musician from Slovenia.
After completing high school in Maribor and many successes in classical music competitions, he is currently a student of cello in nearby Music Academy Graz, Austria. Beside that he also plays guitar, compose music and was already a part of many concerts and projects of his father Vasko Atanasovski, who is an internationally acknowledged musician and composer, releasing 15 albums of original music and performed with musicians like Living Colour (USA), Hindi Zahra (F), Marc Ribot (USA), Vlatko Stefanovski (MK), Tommy Emmanuel (AUS), Michel Godard (F), Simone Zanchini (IT), Bojan Z (F) and many others around the world.
The story of the family duo became even more rounded, when during the corona virus quarantine, Ariel Vei wrote quite some new musical pieces and the decision to make an album was born!
Duo Atanasovski expand its form with great musical guests: Marko Churnchetz, Jošt Drašler and Marjan Stanić.
Ariel Vei Atanasovski
cello, guitar
Cellist Ariel Vei Atanasovski, born on June 30, 2002 in Maribor. After completing high school in Maribor and many successes in classical music competitions, he is currently a student of cello at nearby Music Academy Graz, Austria. Ariel Vei has been active in various musical fields since childhood. He can boast of many successes in competitions, such as first prize at the National competition Temsig 2021, first prize at cello at Euritmia Povoletto 2018, the first prize with chamber group Trio Aeternum at Svirel 2018, and first prize in solfeggio at Temsig 2018 and the first at the international solfeggio competition in Belgrade. He has especially shown his concert success and engagement by performing at the Klasinc Awards as a soloist with the Maribor Conservatory Orchestra, by performing at the national celebration of the 100th anniversary of Rudolf Maister as a soloist with the Slovenian National Opera Orchestra Maribor, and with concerts at the Cankarjev dom Ljubljana, as a soloist in the ensemble of his father Vasko Atanasovski.
Vasko Atanasovski
saxophone, flute
Saxophonist and flutist Vasko Atanasovski is one of the most creative and versatile Slovenian composers and musicians, well known for his cross-genre collaborations with world-famous jazz, rock, classical, and traditional musicians, and his masterful approach to all styles of music. Up to this date he has released 15 highly acclaimed albums and earned numerous audience and critics' compliments for his performances and compositions at home and abroad. He is a regular guest on the European festivals and concert circuit and has also performed in India, China, Latin America, and New York. His original compositions have also found a way into the world of theatre, dance, and puppet shows, repertoires of eminent soloists, orchestras, ensembles, and choirs. He collaborated with musicians like Vlatko Stefanovski, Marc Ribot, Hindi Zahra, Living Color, Theodossi Spassov, Gibonni, Tommy Emmanuel, and many others. Lately, he is releasing world known label MoonJune Records from New York.
Večer, Darinko Kores Jacks: Večer, 2021
"And the fruits of the compositional work of Atanasovski Jr. during the coronavirus plague, which will soon be released on the CD of this band, formed most of the repertoire of Monday's concert. Intertwined with some newly adapted well-known compositions of Atanasovski the Elder with a perceptible touch of folk music of the Balkans, especially Northern Macedonia, where the roots of his ancestors go. In the compositions of his descendant, the folk influences are less pronounced, at least on the first eavesdropping. However, it is possible to observe discreet flirtations with the structures of classical, café, street, even circus, dance (both standard and Latin American), blues, rock, new wave and pop music, and as a kind of commentary inserts also motif fragments from the history of popular jazz to slightly old-fashioned dix. However, the five of them, who played on the stage under the mighty oak, also know how to swing enthusiastically and relaxed. And to raise the audience to their feet to a standing ovation."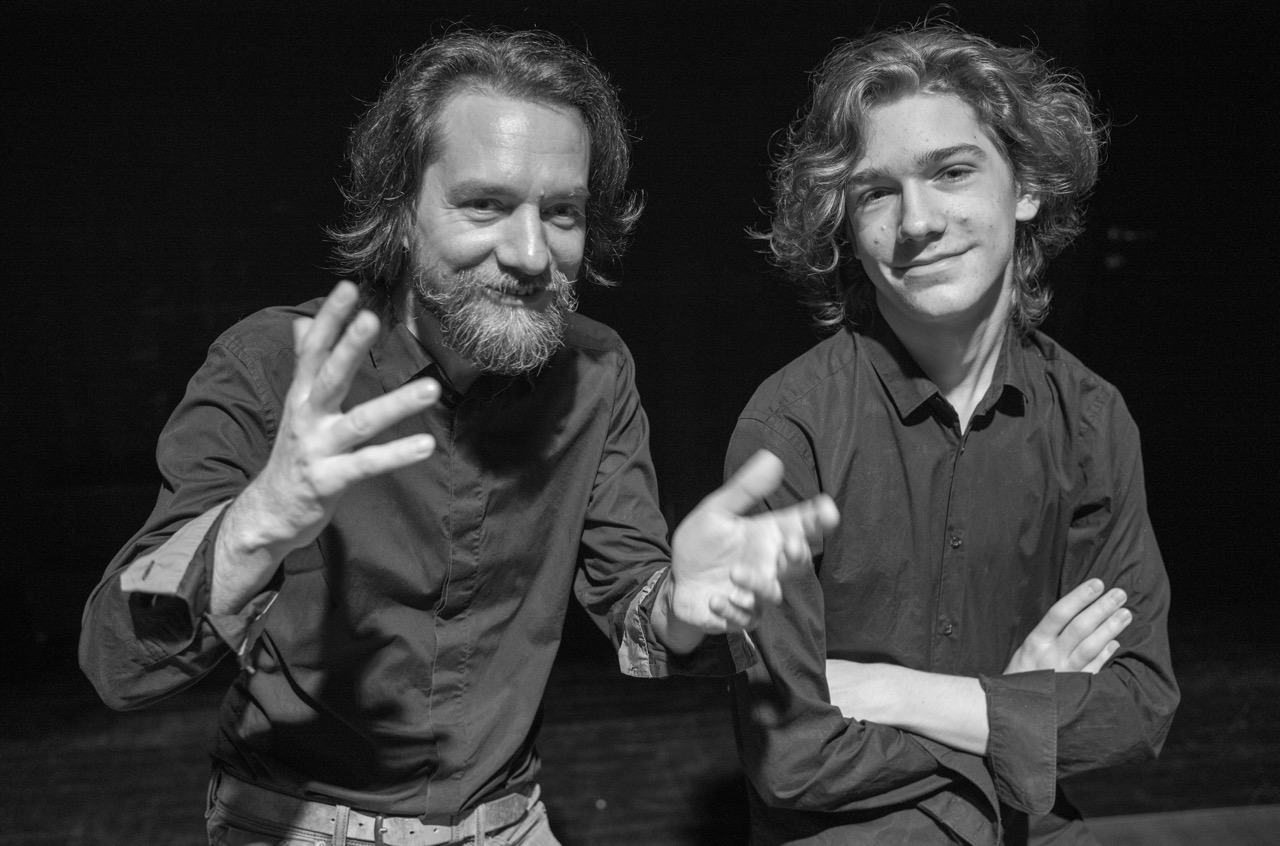 Jazzport.cz, Michal Kratochvíl, Garana Jazz Fetival, Romania 2021
"And that wasn't all. After such a great previous concert, one would think it's time to go to bed, that nothing better can come anyway. Many visitors did, but we persevered and were rewarded with a very beautiful performance at the end of the second day of the festival. Vasko was not afraid to play at the end of the evening and performed his Balkan-scented jazz with a great deal of enthusiasm. His affected speech and sometimes smiling dances, virtuoso playing of the transverse flute, clarinet, alto or tenor saxophone left none of the audience in doubt that we were witnessing another amazing performance. The quartet included Vasko's son, Ariel, who played really fantastically. And he says he only plays the guitar in his free time, because he mainly plays the cello. Beautiful melodies, intense expression, interesting rhythms and animal solos, all this decorated this concert. This was a dream day. We fell asleep beautifully after such a hearty experience!"
Večer, Jaša Lorenčič: When Vasko blows, the applause goes to the sky, Večer 27.5.2020
"They were blowing and buzzing so much that they clapped down the street. Well. Everyone up there on the turn succeeds at something new. "Here, from the highest peak of the Narodni dom," Vasko Atanasovski began on Wednesday, May 27, 2020. "Maribor is below us, a beautiful sunny day and an exceptional view. With me is my son Ariel Vei, who plays the cello, but today he will play the guitar, and the songs he wrote himself. We will premiere four of his compositions created during the Crown Quarantine. They have no titles – except Quarantine 1, Quarantine 2 … I hope you enjoy. Let's go with number one. "It was a pleasure. Mid sunny afternoon. Blinking. Father and son duo, as the duo named the elder Atanasovski.
No wonder Facebook comments kept boiling with enthusiasm. ?❤? They were both fiery and gentle, both loud and quiet, gentle and tumultuous. Family dynamics. They used notes for strength, but only for force, Vasko's sunglasses and Ariel's curly, wavy hair in the wind were more striking."